DEFIANCE/BRAZEN Presents: Texas Two-Step (On Your Face)
Posted by Lance Warner on 5 Feb 2019
---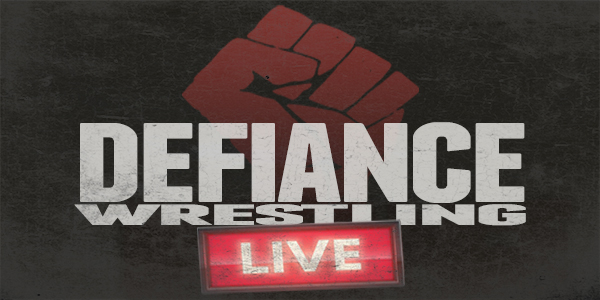 The fans of DEFIANCE and BRAZEN were treated to a new special at the Aztec Theater in San Antonio, Texas this past Saturday night. On the first stop of many along the Gulf Coast, over 1,000 fans came out to see a card packed with title matches, headlined by a special elimination match between the League of Extraordinary Graps and the Stevens Dynasty.
Originally slated to be Kendrix defending the FIST of DEFIANCE against the SoCal/SoHer Champion Elise Ares, a heinous attack by The D and his unnamed female companion have left Ares off the card. To that end, ten of BRAZEN's young and brightest had a battle royale to determine his challenger later in the evening! The card is also rounded out by a DEFIANCE World Tag Team Title and a BRAZEN Championship defense!

DEFIANCE/BRAZEN Presents: Texas Two-Step (On Your Face)
Aztec Theater
San Antonio, TX
Attendance: 1,072

1) BRAZEN RISE Battle Royale:
Minute vs. Bobby Horrigan vs. Howlin' Joe Wolfe vs. Thomas Slaine vs. Levi Cole vs. MDMIV vs Sho Nakazawa vs. David Race vs. Butcher Victorious vs. Cristiano Caballero
- The first match would determine who would be facing Kendrix for the FIST of DEFIANCE later in the evening.
-ORDER OF ELIMINATION:
Sho Nakazawa (by Bobby Horrigan)
Butcher Victorious (by Bobby Horrigan)
MDMIV (by Levi Cole, Joe Wolfe)
Thomas Slaine (by Minute)
David Race (by Bobby Horrigan)
Bobby Horrigan (by Cole, Wolfe, Caballero, Minute)
Caballero (by Minute)
Levi Cole (by Minute)
WINNER: Howlin' Joe Wolfe at 9:46 by last eliminating Minute, goes on to fight Kendrix for the FIST of DEFIANCE!

2) The D's Open Challenge
-Fresh off his betrayal of his long-time partner the DEFIANCE SoHer/SoCal Champion Elise Ares, The D put out an open challenge to either BRAZEN or DEFIANCE stars to see who would face him - answered by the up and coming Ultimo Phoenix.
-Ultimo, like past performances, tried to put his best foot forward and got off a couple Dropkicks and a Flying Forearm for a nearfall
-The D turned the tide on a Senton gone wrong and hit The Contractual Obligation (modified Codebreaker) for the victory!
WINNER: The D via pinfall with The Contractual Obligation at 4:24
3) Gunther Adler vs. "Wingman" Titus Campbell
-A battle between two of the largest men in BRAZEN. The 6'5" 310-pound Gunther Adler and the 6'7", 312-pound party boy!
-Wingman had the early advantage with Turbulence! (Airplane Spin into front slam) for a nearfall!
-The deadly chops of Adler wore down Wingman and a Sleeper almost got him the victory, but Wingman fought back with a big Side Slam.
-The Wingman tried for his Hookup, but Adler spun out of it and hit the Dangan Bomb for the three-count!
WINNER: Gunther Adler via pinfall with the Dangan Bomb at 6:12
4) Gulf Coast Connection (Aaron King and Theodore Cain w/Crescent City Kid) and Thugs 4 Hire (Emilio "The Pigeon" Byrd and Hurtlocker Holt) vs. No Justice No Peace (Theo Baylor, Roosevelt Owens, The Neighborhoodlum and Felton Bigsby)
-Two of the more popular BRAZEN groups joined forces to take on the holders of the World Trios Tag Team Titles.
-GCC and T4H showed great teamwork at the onset, keeping Neighborhoodlum isolated with slams and some double-team moves.
-Eventually, Aaron King was cut off by Theo Baylor with a HUGE Running Shoulder Tackle sending him into the barricade! From there, Owens and Bigsby tossed him around with Neighborhoodlum almost getting the fall with a Shotgun Dropkick.
-King nailed the Party Down (Uranage Backbreaker) and tagged Hurtlocker Holt! Holt slugged it out with Baylor as Byrd came off the top with a Top Rope Shoulder Block onto Bigsby! Cain and Byrd took out big Rosey Owens with a Double Clothesline over the top and that led to Neighborhoodlum later tapping to the Pensacola Crab (High Angle Boston Crab) from King!
WINNERS: Gulf Coast Connection and Thugs for Hire via submission at 11:02 (King over Neighborhoodlum)
A brief intermission took place with BRAZEN Authority Figure and former Team HOSS member Capital Punishment coming out to greet the crowd and to thank them for showing up… only to get cut off by "The Titan of Industry" Uriel Cortez, along with Cappy's former managers, The Family Keeling (Thomas and Junior Keeling).
Thomas wished Cappy well in his new role as BRAZEN Authority Figure and wanted to make an offer to court him to The Family Keeling again. Cappy told him thanks but no thanks and told him to stick it because they had a show to run. Uriel looked like he wanted to fight with Capital Punishment, but Angel Trinidad came out and demanded a fight with Uriel. While no official match, the two giants slugged it out right then and there! Chants of "LET THEM FIGHT!" rang out throughout the Aztec Theater before DEFsec came to separate the two. The issues between the two giants were far from over, but for right now, it was to the title match portion of our show featuring four title defenses!
5) DEFIANCE World Tag Team Titles: The Toybox (Jestal and Dandelion w/WynLyn) (c) vs Fuse Bros (Tyler and Conor Fuse)
-Though The WrestleFriends would have the upcoming title shot at MAXIMUM DEFIANCE, management felt the Fuse Bros were owed a rematch of their own, hence this match!
-MATCH OF THE NIGHT! According to many reports from the fans in attendance watching the back and forth action. Jestal had a hell of a go in the opening rounds with a more aggressive Tyler and Conor taking the fight to ToyBoy with double-teams galore at the onset.
-Interference by WynLyn turned the tide when she shoved Conor off the top rope!
-Conor had his leg worked over between Dandelion and the technically-adept Jestal and even took some time to make fun of the fact he didn't have proverbial or literal leg to stand on. Eventually Jestal paid for the taunting when Conor nailed PWN'D! (Tilt-a-whirl DDT)
-Tyler went wild includinga LANline (Diving Clothesline on Dandelion and the Achievement Unlocked (Koji Clutch) on Jestal for a close call until he made the ropes!
-CQC attempt by Tyler failed when Conor ran in for a Superkick on Dandelion and accidentally nailed his brother! Jestal hooked on the KillJoy (modified Deathlock/Octopus Stretch)! Tyler didn't respond so the referee awarded the victory to The ToyBox!
WINNERS: And STILL DEFIANCE World Tag Team Champions The ToyBox via submission (Jestal over Tyler) at 16:36
6) BRAZEN Championship: Reinhardt Hoffman vs Flex Kruger
-A noticeably mixed reaction for Flex Kruger for his part in what happened to Elise on the last DEFtv. Still, the fans didn't like Hoffman that much more for his flaunting his successful reign as BRAZEN Champion with the title belt. Kruger had a victory over Hoffman at the TAG PARTY!! Event a few weeks ago and led to this title match.
-Hoffman controlled the onset with techncial prowess, keeping Kruger at bay with a series of leg-based submissions to take his vertical base away.
-Kruger gutted out the pain and slammed Hoffman down with a Belly to Belly Suplex and a Release Powerbomb for close falls.
-Hoffman came back with a Knee Trembler and a German Suplex for nearfalls, but Kruger fought back and overpowered him with a Deadlift Superplex off the top!
-The crowd was behind Flex towards the end, however he got taken out with belt shot by an irate Hoffman when he couldn't put him away! Hoffman celebrated with the belt, but Kruger got back up after the match and chase him off! The match would be awarded to Flex, however titles don't change on a DQ.
WINNER: Flex Kruger via disqualification. STILL BRAZEN Champion, Reinhardt Hoffman at 9:42
7) FIST of DEFIANCE: Kendrix (c) vs winner of BRAZEN RISE Battle Royale (Howlin' Joe Wolfe)
-Joe Wolfe won a Battle Royale at the start of this show to challenge Kendrix.
-Kendrix took the former protege of Dusty Griffith and finalist of the TAG PARTY!! lightly. Even threatening to walk away with the belt. As Authority Figure, Capital Punishment ordered him back to the ring or have the title stripped.
-Wolfe almost won the title off a Schoolboy and a Backslide off the bat, but a Kendrix knee strike turned the tide back his way. Kendrix took the young Louisiana native to task with Uppercuts galore and worked his neck with Neckbreakers and his signature elbow drop combo.
-Wolfe fought back with a high elevation Dropkick and a Figure Four, but Kendrix made the ropes. Kendrix almost got the win with a Brainbuster, but Joe would not be denied!
-Wolfe fought back, landing an Implant DDT followed by the Wolfe's Bane (Tiger Driver) for the 2.999999, but STILL not a three!
-After trying a second one, Kendrix shoved Wolfe into the official. He stopped himself from hitting Benny Doyle, but a low blow followed by The Bell-End (Codebreaker) then led to the Kendrix Kross for the submission win!
WINNER: And STILL FIST of DEFIANCE Kendrix with The Kendrix Kross at 13:12
8) Six-Man Elimination Match: The League of Extraordinary Graps ("Twists and Turns" Oscar Burns, "Bantam" Ryan Batts, "Manpower" Jack Mace) vs The Stevens Dynasty (Scott, Bo and George Stevens)
-Though the Stevens Dynasty camp hail from The Great State of Texas, Scott Stevens ripped the crowd apart before the match, saying he was too good for the state and didn't want a bunch of ass-kissing hicks riding his jock like it was the last lifeboat off a sinking ship.
-Eliminations could happen by Pinfall, Submission, Disqualification, or count-out.
-They proudly rooted for Oscar Burns and company as the match went almost thirty minutes. For the first almost ten minutes, Burns and Stevens squared off, along with Batts and Bo, followed by a big brawl between Mace and George Stevens!
ORDER OF ELIMINATION:
-George Stevens eliminated at 15:24 with Let Gravity Do The Rest (Diving Senton) from Ryan Batts, Sweet As Knee Drop (Diving Knee Drop) from Oscar Burns and Super Piccadilly Press (Diving Splash) by Jack Mace!
-Jack Mace eliminated at 16:01 followed by Toxic Sting by Scott Stevens!
-Oscar Burns eliminated via count-out at 21:15 followed by George Stevens coming back out and hitting The Texas Sized Slam on the floor. Mace came out to fight him to the back after the fact!
-Scott Stevens eliminated via disqualification at 25:24 when he was caught loading his glove with a weapon to finish off, thanks to Oscar Burns coming back to point out to the official. The two hated rivals also fought to the back.
-The final five minutes came down to Ryan Batts and Bo Stevens, with each man giving their best shot at one another and the crowd cheering them on! Bo kicked out of the Tiger Suplex and Ryan kicked out of the Straight Outta Texas (Alabama Slam).
-Eventually, Bo tried to land his signature Game Changer (rolling cutter), but Batts caught him out from nowhere with the Backslide of the Gods (modified Backslide) for the pinfall win!
WINNER: "Bantam" Ryan Batts, last eliminating Bo Stevens with the Backslide of the Gods at 30:03
Post-match, Scott Stevens and Oscar Burns returned to brawl at ringside, but George came back out to try and even the numbers. Eventually, The League reunited with Mace in tow and fought off their attackers, sending The Stevens Dynasty to the back. Burns and company then took a few minutes to catch their breath and greet the crowd with Burns promising to have an answer for Scott Stevens's challenge from DEFtv very soon and The WrestleFriends promising to win the DEFIANCE World Tag Team Titles at MAXDEF.
Another big night to start the next few off weeks of shows with DEFIANCE promising some more shows along The Gulf Coast in the weeks to come!
---
Related News
9 Jul 2019
25 Jun 2019
4 Jun 2019
24 May 2019
Backstage 3.1