DEFIANCE/BRAZEN Presents: TAG PARTY!!!
Posted by Lance Warner on 19 Jan 2019
---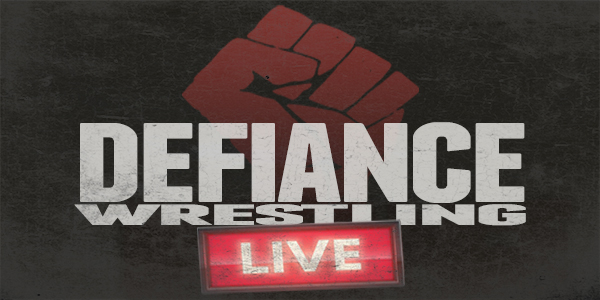 The stars of DEFIANCE and BRAZEN join forces once again to bring to another special event! Over 1,100 fans came out en masse to the Havert L. Fenn Center in Ft. Pierce, Florida!
Click the link to see the results of a one-night tournament featuring pairings of DEFIANCE and BRAZEN stars, along with a five-team BRAZEN Tag Team Battle Royale with a big prize and a FIST of DEFIANCE title defense when Kendrix defends the gold against "The HOSS Overlord" Angel Trinidad!
The event kicked off with "...And Justice For All" by Metallica, which meant… CAPITAL PUNISHMENT! One of the heads of BRAZEN's training facility came out to greet the fans, who responded in kind to the former Team HOSS member. He came out to announce his new position as Leading Authority for all BRAZEN house shows going forward. He kept his intro short and sweet before breaking down the even tonight.
A one-night tournament where eight teams - comprised of one BRAZEN and one DEFIANCE star - would be competing for the first-ever Tag Party!!! Trophies. The rules were as follows:
--All opening rounds were a ten-minute time limit
--Semi-finals were fifteen-minute time limit
--No time limit for finals--Should any match in the opening and semis reach a tie, audience reaction would be judged to decide a winner!
In between rounds, this would also host a five-team Battle Royale between BRAZEN Tag Teams for a future shot at the DEFIANCE World Tag Team Titles on a DEFtv episode, along with FIST of DEFIANCE Kendrix, defending the title against Cappy's former stablemate - "The HOSS Overlord" Angel Trinidad! Before the event kicked off, the eight teams were announced:
Oscar Burns/Howlin' Joe Wolfe
Scott Stevens/Victor Vacio
Elise Ares/Flex Kruger
Uriel Cortez/Butcher Victorious
The D/Reinhardt Hoffman
Mushigihara/Levi Cole
Ultimo Phoenix/Minute
Shooter Landell/Bobby Horrigan
After the brackets were announced, it was stated that while both Oscar Burns and Scott Stevens are both suspended from the next DEFtv following their actions on 113, they were allowed to compete at Tag Party!!! Due to contractual commitments. And now, to the results!

1. TAG PARTY!!! OPENER: "Twists and Turns" Oscar Burns/Howlin' Joe Wolfe vs Shooter Landell/Bobby Horrigan
The opening contest was technical versus technical/power. Big Bobby Horrigan did a great job at several points bullying both Wolfe and the former FIST of DEFIANCE Oscar Burns. Wolfe was worked over for a portion of the bout and almost lost to Shooter Landell with an STO. In the end, Burns dodged Horrigan's Irish Slammer (Cannonball Senton), which allowed Burns to connect with a Sweet As Knee Drop followed by Wolfe's Diving Elbow Drop for the pin!
WINNER: Oscar Burns and Howlin' Joe Wolfe via pinfall with Cry Wolfe @ 7:41 (Wolfe over Horrigan)
2. TAG PARTY!!! OPENER: Ultimo Phoenix/Minute vs. Scott Stevens/"Lost Cause" Victor Vacio
The luchadors Ultimo Phoenix and Minute were fighting an uphill battle against the former FIST of DEFIANCE Scott Stevens and "Lost Cause" Victor Vacio, but sure did try which impressed the crowd. Minute busted out a Springboard Senton Bomb to both Stevens and Vacio at one point, wowing the crowd followed by Ultimo Phoenix taking down Vacio with a Cannonball Senton off the apron. The match ended when Stevens DRILLED Phoenix with a Toxic Sting (Diamond Cutter) followed by Vacio landing his signature Shooting Star Press for the win, giving him a 2-0 nod over the DEFIANCE star.
WINNER: Scott Stevens and "Lost Cause" Victor Vacio via pinfall with Shooting Star Press @ 4:15 (Vacio over Phoenix)
3. TAG PARTY!!! OPENER: Musigihara/Levi Cole vs. "Titan of Industry" Uriel Cortez/Butcher Victorious
While Mushi and Cole had mutual respect on their side, Cortez had no such thing and dominated Cole during a stretch followed by a STIFF Chop Battle between Cortez and Mushi, WOWING the crowd! Butcher had enough of sitting on the sidelines and tagged himself in, hitting a Springboard Knee Strike on Cole for a close fall! Cole turned the tides on Butcher and slapped on the Liberty Lock (Kneeling Figure Four Leglock) for the tapout! As Mushi and Cole celebrated, Cortez LEVELED Butcher with an Industry Standard (Waist-lifted Side Slam) and left him laying for his troubles, costing him advancement in the tournament for his own hotheadedness.
WINNER: Mushigihara and Levi Cole via submission with The Liberty Lock @ 6:43 (Cole over Butcher)
4. TAG PARTY!!! OPENER: The D/BRAZEN Champion Reinhardt Hoffman vs DEFIANCE SoHer/Socal Champion Elise Ares/Flex Kruger
Things got interesting for this one from the onset with PCP members colliding! However, Hoffman constantly took the lead for his team and refused to tag The D. The BRAZEN Champion wrestled with The SoHer… sorry, SoCal Champion Elise Ares. After a spell, Flex got some of the BRAZEN Champion, overpowering him with press slams and the like. The D tagged himself in and almost got the win over Elise at one point with a Backslide, but an angry Hoffman tagged himself back in to try and land a Knee Trembler on Elise. Elise moved and tagged Flex, allowing him to land the Flex Plex (Dragon Suplex) for the THREE! Not only did Elise Ares and Flex Kruger advance, but Flex had just pinned the BRAZEN Champion!
Things were somewhat awkward between The D and Elise Ares, but the two eventually engaged in an awkward bro-hug before Elise and Flex had their moment in the sun.
WINNER: Elise Ares and Flex Kruger via pinfall with The Flex Plex @ 9:31 (Flex over Hoffman)

5. FIVE TEAM BATTLE ROYALE - winner fights for Tag Titles on future edition of DEFtv
Gulf Coast Connection (Aaron King and Theodore Cain w/Crescent City Kid), Gentleman's Agreement (Lord Sewell and Oliver Tarquin Monroe), Team BAMF (Sam Day and Matt LaCroix), Louisiana Bulldogs (Oliver and Denver Brandt), Thugs 4 Hire (Emilio Byrd and Hurtlocker Holt)
To give the wrestlers a reprieve before the semi-finals, five BRAZEN teams earned a golden opportunity to challenge new DEFIANCE World Tag Team Champions The ToyBox. To send a team out, both members had to be eliminated.
Elimination Order: Oliver Tarquin Monroe, Sam Day, Oliver Brandt, Lord Sewell, Matt LaCroix, Emilio Boyd, Denver Brandt, Aaron King…
The final two ended up being a HOSSFITE between Hurtlocker Holt and Theodore Cain! The two men exchanged blows until Holt missed a Big Boot, but Theodore Cain did not miss the POUNCE-AHHHHH! To knock Holt from the ring and win the shot for The Gulf Coast Connection!
WINNER: Gulf Coast Connection @ 8:08 via elimination.

6. TAG PARTY!!! SEMI-FINAL: "Twists and Turns" Oscar Burns/Howlin' Joe Wolfe vs. Scott Stevens/"Lost Cause" Victor Vacio
Burns and Stevens RIPPED into one another at every chance they got from the onset to the point where both partners had to keep them from being disqualified. The crowd was MOLTEN for the two rivals, but Wolfe and Vacio showed at different points why they were the future of DEFIANCE. A Cry Wolfe Elbow Drop got knees by Victor Vacio, but his SSP on Wolfe met the same fate, crashing into knees! Eventually, Wolfe blocked Stevens from entering the ring while Burns locked in the Graps of Wrath I (Arm-locked Grounded Octopus Stretch) on Vacio for the submission win!
Following the match, DEFsec had to QUICKLY break things up again between Burns and Stevens. Thankfully this time, no DEFsec members were hurt, but chants of "LET THEM FIGHT!" echoed loudly post-match.
WINNER: Oscar Burns and Howlin' Joe Wolfe via submission with Graps of Wrath I @ 11:22

7. TAG PARTY!!! SEMI-FINAL: Mushigihara/Levi Cole vs. DEFIANCE SoHer/SoCal Champion Elise Ares/Flex Kruger
This was a huge size mismatch with Elise Ares, but the fighting champion was more than ready, using speed to run circles around Cole before Mushigihara smacked her down. Flex tagged in and the two big bulls traded shots which got the crowd cheering. Flex even tossed big Levi Cole over the top with a huge Military Press! The crowd continued to cheer on all the men (and woman, of course) for the action. A hot series of nearfalls down the stretch between both Cole and Flex got the crowd wound up and so did Elise almost taking the win from Cole with a Splash off of Flex's shoulders! As Flex hit Cole with the Flex Plex (Dragon Suplex), Elise nailed Your Feature Presentation (Phoenix Splash Double Knee Drop) on Cole for the win!
WINNER: Elise Ares and Flex Kruger via pinfall @ 14:39 (Ares over Cole)

8. FIST of DEFIANCE: Kendrix (c) vs. "HOSS Overlord" Angel Trinidad
Before we got to the TAG PARTY!!! Finals, Kendrix would defend the FIST of DEFIANCE against the 6'10" and 303-pound Angel Trinidad. Stalling was the name of the game by Kendrix for the first couple minutes until Angel THREW him back in the ring. He blasted the former Hollywood Bruv with huge right elbows and manhandled him with a Biel Toss and Standing Fallaway Slam.
Eventually, Kendrix was chased by Angel on the outside until the crafty and dangerous champ Dropkicked the steel steps into Angel's knee! From there, the knee proved to be problematic for the HOSS Overlord as Kendrix worked it over with an assortment of leg-based locks. Everybody was the same size on their back.
Angel gutted it out and pinballed Kendrix with Corner Clotheslines, a Sidewalk Slam and a Running Dropkick for a nearfall! The Flying HOSSbody missed as Kendrix ducked! Angel tried to get up and pull Kendrix out of the corner, taking a turnbuckle pad with him. Angel charged and Kendrix kicked the leg, sending Angel head-first into the exposed buckle. A Superkick to the knee, one to the head, and a Bellend (Running Codebreaker) finally ended The HOSS Overlord's campaign for gold by an opportunistic and successful champion! Kendrix had retained!
WINNER: and STILL FIST OF DEFIANCE, Kendrix via pinfall @ 15:06 with The Bellend

9. TAG PARTY!!! FINALS: "Twists and Turns" Oscar Burns/Howlin' Joe Wolfe vs. DEFIANCE SoHer/SoCal Champion Elise Ares/Flex Kruger
The main event came down to two fan favorite teams and the crowd chanted loudly between Oscar Burns and the woman he taught her signature Sunset Stretch to, Elise Ares. Burns and Ares took to the mat for a bit with Burns ruling the roost, however a Headscissors from Ares took him outside and a Low-pe through the middle and bottom rope took down the former FIST! Shortly after their exchanged, Wolfe and Flex shook hands and the two went to work with Flex using power to take over Wolfe - at least until Wolfe went real old school and used a Dragon Screw on Flex!
Burns and Wolfe worked very well together, working over Flex with holds while Wolfe at one point busted out an old-school Figure Four Leglock! He almost got the tapout only to leave himself wide open for a Springboard Splash by Ares and a "Que Tal Eso?!" that popped the crowd! Elise then went wild on Wolfe with a flurry of kicks and such, ending with the Extreme Makeover (Double Foot Curb Stomp) for a nearfall!
Now it was the PCP members that took turns wailing on Joe Wolfe in their corner, working over his ribs with stomps from Elise and slams from Flex. Eventually, Wolfe took Flex down with a huge Implant DDT and tagged Burnsie! The Team Graps Cap blitzed both Flex and Elise with suplexes including an Exploder on Elise and a Release German on Flex! Burns pinballed them both with European Uppercuts followed with Burns hitting a Sweet As Knee Drop on Flex!
Things broke down between all four, including Wolfe almost stealing the win on Elise with a huge Flapjack slam! He tried to take her down with the Wolfe's Bane (Tiger Driver), but Elise spun out into a hurricanrana... Burns was ejected from the ring by Elise, allowed Flex to hit another Flex-plex followed by a running headscissors into the Sunset Stretch! The very move that Burns taught Elise just won her team the TAG PARTY!!!
WINNER: Elise Ares and Flex Kruger via submission with the Sunset Stretch @ 22:25 (Elise over Wolfe)
Following the match, massive "DEFIANCE!" chants echoed as Capital Punishment came down to give Elise and Kruger their trophies for winning the one-night tag team tournament featuring the best of both BRAZEN and DEFIANCE!
Oscar Burns and Joe Wolfe stayed to shake the hands of the winners as Elise got to give another great speech, thanking God and a lot of fives and sixes making a nine like Flex and a ten like herself feel like they belong at the top by putting in the work. Ares, Kruger, Wolfe and Burns celebrated with the fans as the show came to a close.
---
Related News
9 Jul 2019
25 Jun 2019
4 Jun 2019
24 May 2019
Backstage 3.1