DEFIANCE/BRAZEN Presents: New Years BASH!!!
Posted by Lance Warner on 12 Jan 2019
---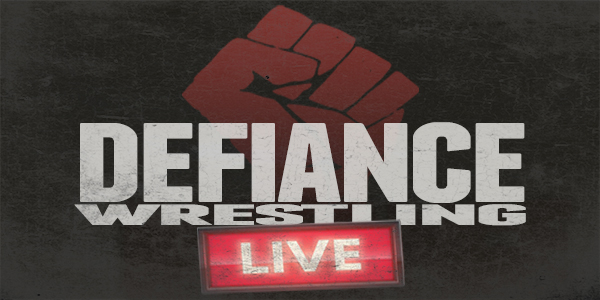 With the New Year having been upon us for a couple weeks now, DEFIANCE and BRAZEN have been hard at work putting together a card featuring ALL titles from both DEFIANCE and BRAZEN on the line, featuring a four corners TRIOS match, two new BRAZEN stars making their respective debuts, not to mention a chaotic main event for the FIST of DEFIANCE itself!

Taking place in the New Orleans Morial Convention Center, over 1,400 rowdy DEFIANCE Faithful were treated to great action. Click ahead for full results!

DEFIANCE/BRAZEN Presents:
New Years BASH!
January 11th, 2019

1. TRIOS FOUR CORNERS - winner gets Trios Title match later in evening.
Gulf Coast Connection (Aaron King, Theodore Cain and Crescent City Kid) vs. Strong Style Stranglers (Brody, Hart and Ridgway) vs. BADASS Arms Dealers (David Race, "Bad Seed" Davis Bloome and "Wise Ass" Tripp Wise) vs. The Dunson Clan (Paul, Richie and Todd Dunson)

-The Gulf Coast Connection were heavy favorites due to local roots. Both The Dunson Clan and Strong Style Stranglers were from the RISE Tag League earlier this year with BADASS Arms Dealers being relative unknows.
-That said, action was INTENSE from bell to bell, including dives everywhere from. Richie and Todd Dunson, Hart, Crescent City Kidd and "Wise Ass" Tripp Wise about to to run, only to stop and Trust Fall backwards onto the crowd!
-Fans were WOWED between Davis Bloome and Ridgway throwing hands.
-In the end while fights broke out every which way at ringside, Theodore Cain DRILLED the elderly Paul Dunson with a huge NOLA Driver (Tilt-a-Whirl Powerslam) followed by Kid's Hurricane Press (450 Splash) for the win!
WINNER: Gulf Coast Connection via pinfall with NOLA Driver and Hurricane Press (CCK over Paul Dunson) @ 14:16

Later tonight, Louisiana's own GCC would battle for the World Trios Titles against No Justice, No Peace!

2. Minute vs. Rhys Collins

-The debuting 5'4" luchador, Minute (pronounced My-Newt) fought against BRAZEN Champ Reinhardt Hoffman's own Stablemate, Rhys Collins
-The Welshman grounded Minute, but the diminutive dynamo prevailed with the Interceptar (Springboard Tornado DDT) followed by the Minute Detail (SSP) for a HUGE win in his debut!
WINNER: Minute via pinfall with Minute Detail @ 4:51

As Minute celebrated, he was attacked by the MASSIVE 399-pound Irishman Bobby Horrigan! He powerbombed the luchador on the ring apron!

Among jeers from The Faithful The 6' portly brawler bashed Louisiana and demanded his match right now, declaring war on BRAZEN. Out came long-time BRAZEN star Howlin' Joe Wolfe for the next match!

3. Howlin' Joe Wolfe vs. Bobby Horrigan

-Horrigan exploited his weight advantage and bullied Wolfe for a bit including a Suplex on the floor followed by a Leg Drop!
-Wolfe took the fight back to the big man with Cry Wolfe (Diving Clothesline) then a Diving Elbow for a near fall!
-The Wolfe's Bane attempt was blocked by Bobby and he hit Boston Strong (Bucklebomb) followed a DEADLY Irish Slammer! (Corner Cannonball) for the upset win in his debut over one of BRAZEN's best!
WINNER: Bobby Horrigan via pinfall with Irish Slammer @ 5:29

4. DEFIANCE World Tag Title Titles: The Fuse Bros (Tyler and Conor Fuse) (c) vs. Gentlemen's Agreement (Lord Sewell and Oliver Tarquin Monroe)

-Gentlemen's Agreement - former RISE Tag League participants - got on the microphone and chastised The Fuse Bros for their overall ridiculous demeanor and promised to wrestle the titles away.
-The Fuse Bros quickly proved that wrong with a series of double teams that almost got the win early!
-The challengers cut off a 2-Up attempt early and OTM shoved Conor off the top!
-The ankle injury hovering over Conor came into play and Sewell and Monroe used various leg and ankle holds to wear him down. Eventually Conor PWN'D Monroe
...his name for the Tilt-a-Whirl DDT of course.
-Tyler made the hot tag! After blazing through Sewell and Monroe, The brothers finally landed the 2-Up (Double Frog Splash) on OTM for the win!
WINNER: And STILL DEFIANCE World Tag Team Champions The Fuse Bros. via pinfall with 2-Up (Tyler over OTM) @ 10:08

Following the match was a brief intermission with DEFIANCE Executive Producer and BRAZEN Head BOOKAH/DEFtv Color Commentator Angus Skaaland thanking the fans for coming out this evening.

5. WORLD TRIOS CHAMPIONSHIP:
No Justice No Peace (Theo Baylor, The Neighborhoodlum and Roosevelt Owens) (c) vs. Winners of Four Corners match

-The Gulf Coast Connection turned the arena into a party zone with their awful earworm techno remix of "When The Saints Go Marching In." No Justice No Peace poo-pooed all over that quickly.
-Crescent City Kid and Neighborhoodlum exchanged moves on the mat, followed by the two Theos (Baylor and Cain) throwing shots at each other. King dodged and avoided Big Rosey fora while until a distraction from Lucius Owens allowed him to hit King with a Samoan Drop!
-NJNP worked over Aaron King with various slams and impact moves, including a Shotgun Dropkick by 'Hoodlum and a Front Powerslam by Baylor. King fought back with the crowd starting to rally and nailed the Party Down (Inverted Headlock Backbreaker) on Hoodlum!
-Theodore Cain ran circles around Hoodlum and took him down with a Corner Elbow Smash and a Standing Spinebuster! CCK tagged, but another Owens distraction let Big Rosey slam CCK down and hit The Pancake Splash (Running Splash) to retain!
WINNER: and STILL World Trios Champions No Justice No Peace via pinfall with Pancake Splash (Owens over CCK) @ 11:19

6. DEFIANCE Southern Heritage Championship: Elise Ares (c) vs. Matt Lacroix

-Fresh off vanquishing THE Jay Harvey to win the SoHer, Elise would defend against a BRAZEN star on the rise, Matt LaCroix aka one half of Team BAMF with Sam Day.
-Elise had the PCPs at ringside in full force, The D, Klein and Flex Kruger while Sam Day watched his partner in action. Ares used her speed to throw Matt off-balance, even landing a big Tope followed by her infectious "Que Tel Eso?!" taunt.
-Matt took back the reigns later on with the Bourbon Street Bomb (Bucklebomb) and worked the back with a Surfboard.
-Elise fought back and landed The Cuban Necktie followed Your Feature Presentation (Phoenix Splash Double Knee Drop) for the successful defense over a very game Matt LaCroix.
WINNER: and STILL SoHer Champion Elise Ares via pinfall with Your Feature Presentation @ 8:23

7. BRAZEN Championship: Reinhardt Hoffman (c) vs. Levi Cole vs. Butcher Victorious vs. Cristiano Caballero

-Hoffman would defend the BRAZEN championship once again, this time against his rival Levi Cole, along with Butcher Victorious and Cristiano Caballero.
-Butcher went 0 to 100 real quick, using quickness to take out EVERYBODY with dives left and right! He crashed and burned on a Suicide Dive on Caballero, hitting nothing but guardrail!
-Cole and Hoffman picked up where they left off at DEFCON, taking things to the mat with Caballero trying to steal pins where he could.
-Butcher took out the pretty boy with the Violet Crown (Diving Blockbuster)
-Cole had the match won late after drilling Butcher with the Gutwrench Powerbomb, only for Hoffman to swoop in with a Knee Trembler for Cole and one for Butcher for the win!
WINNER: and STILL BRAZEN Champion Reinhardt Hoffman via pinfall (Hoffman over Butcher) with Knee Trembler after Cole's Gutwrench Powerbomb @ 17:41

In the main event, new FIST of DEFIANCE Champion Kendrix would defend against one of two men he stole the title from at DEFCON in "Twists and Turns" Oscar Burns!

8. FIST of DEFIANCE: Kendrix (c) vs. "Twists And Turns" Oscar Burns

-Kendrix was NOT keen at all with locking up with The Team Graps Cap. The first few minutes comprised of stalling from the champ. When Kendrix tried a cheap shot behind the referee's back, Burns caught his hand and nearly won with a Fujiwara Armbar before Kendrix escaped the ring.
-The tables turned on the outside when Kendrix DRILLED Burns with a Neckbreaker out on the floor!
-From there Kendrix used his own wrestling prowess to work over the neck of Burns, especially after a vicious Brainbuster for a nearfall!
-Burns continued to fight and went after Kendrix's arm, softening him up for Graps of Wrath II! The Scissored Armbar attempt failed, but later on the Kendrix Kross (Crossface) didn't!
-Burns fought back late in the game and nearly won off a pinfall reversal, but Kendrix kicked out! He landed a big Superkick on Burns for 2.9999999!
-The crowd was on their feet by the end stretch, Burns landed the Hard Out Headbutt and the Dragon Suplex also scored a big nearfall!
-Kendrix almost stole the win with a distraction by throwing his shirt at the ref followed by a belt shot, but also got a two-count! Burns would NOT go away quietly!
-Kendrix went for Bellend, but - NO! Oscar held onto the ropes and locked him in Graps of Wrath II! The bell rang and the crowd EXPLODED!

...until it was announced...

WINNER: and STILL FIST of DEFIANCE via 30:00 Minute Draw... Kendrix!

...Kendrix hadn't tapped, but the clock ran to zero! As the crowd JEERED, Kendrix was given the title! He laughed and raised the title overhead, demanding Burns raise his hand and declare him the better wrestler. He beat him at DEFCON and he failed again tonight...

Burns responded in kind with a Hard Out Headbutt, sending Kendrix from the ring!

After the match was over and Kendrix scrambled out of the venue, Oscar Burns looked upset over having not won the title, but still managed to thank the crowd for coming tonight and for continuing to support DEFIANCE and BRAZEN events!
---
Related News
23 Sep 2020
21 Sep 2020
16 Sep 2020
11 Sep 2020
10 Sep 2020
Backstage 3.1