Biography | Wrestling | Promos | Appearances | Photo Album
Jestal Biography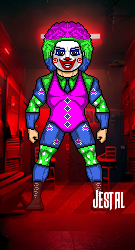 Personal
Alias(es)
Jestal, Mad Prince
History
Gimmick
The jokester of the Toybox. Jestal is more concerned with having fun in the ring rather than actually trying take a match serious. He is infamous for putting plastic smiles in his opponents mouths after he has won. He figures it's his way of putting a smile on everyone's face regardless of how unfortunate their position is.

Strengths
Opponents are often taken back by his love of life. Not realizing behind all the jokes and comedy lies a very accomplished technical wrestler. He will eventual annoy his opponent so much to the point they make a vital mistake.
Jestal, will take advantage of injured body parts and continually work on that body part.
Due to his height, and lack of strength Jestal, has compensated by becoming a expert in technical/submission style wrestling.
Weaknesses
Not finishing a momentum series of moves.
Never takes anything serious, which in a lot of cases seems to get him in trouble A LOT.
Not very strong, and suffers a lot from his small size.