Biography | Wrestling | Promos | Appearances | Photo Album
Jack Mace Biography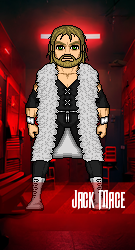 Personal
Real Name
Jack Ebenezer Mace
Alias(es)
Manpower, The Wrestling Teddy Bear
Hometown
Grewelthorpe, North Yorkshire, England.
History
Gimmick
Big wild uber-friendly mountain man. Nicknamed Manpower and The Wrestling Teddy Bear. He dresses like a man that loves him some outdoors and legit loves that kind of thing. Vibrant, boisterous, and full of energy. Believes in putting in the hard work to get the best results. In appearance, he looks similar and dresses like Giant Haystacks with fringe animal skin jackets and for big matches, wolf pelts.

Came into his team with Batts when they met and trained at the Harold Ketch Grapple Arts Academy (same place that did up Oscar Burns). Despite being polar opposites, they struck up a fast friendship and have teamed up for going on two years.
Strengths
Strength. He's a big-boned crazy man that don't know his own strength.

Tag team wrestling. He's been working with Batts or a couple years and is pretty good at the hot tag thing.

Cool big guy moves. He's a late starter to wrestling (he's 36 now, started when he was 32) but has a good spread of moves. He's actually coming along as a good technical big guy.

Weaknesses
Slow. He has a couple of cool "big guy" moves but he's pretty slow.

Quicker wrestlers. Quicker wrestlers that can time attacks well will have a chance.

Pandering. He has a few years of experience and is still a work in progress. He may pander to the crowd too often instead of going in for the kill. He loves showing off his power.