Biography | Wrestling | Promos | Appearances | Photo Album
HF IV Biography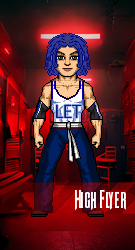 Personal
Physical Description
A but lanky but still toned, boyish figure of 17. Think early days 1-2-3 Kid.
Gimmick
Spot monkey daredevil, youngster, daredevil, Third Generation Athlete, Jack Harmen's kid.
Ring Attire
He wears a classic singlet that goes into full tights.
He wears a theatrical mask that he removes during his entrance and tosses to the crowd.
History