Biography | Wrestling | Promos | Appearances | Photo Album
Shooter Landell Biography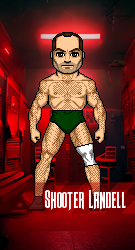 Personal
Hometown
Council Bluffs, IA
History
Biography
Shooter Landell is a longtime journeyman wrestler with a noteworthy career spent mostly in the American South and Japan. With a legitimate background in judo and wrestling, Landell was known for his authentic in ring style which earned him his nickname. He had been on track to attend the University of Iowa on a full wrestling scholarship when his high school girlfriend became pregnant and he had to provide.

He had taken to working labor-intensive jobs, mainly in construction as a means to support his family. A chance encounter at a bar introduced Landell to the professional wrestling business, where he met a local promoter. This promoter assured Landell that he could make substantially more money in the professional wrestling business and convinced him to seek training. Debuting at 19, Landell quickly made a name for himself in the regional circuits, earning the nickname "Shooter" for his distinctive catch wrestling style. After several years of working locally, he received some interest from promotions in Japan and would spend the majority of his career touring with various wrestling companies there.

Landell had spent some time with major US companies but was never a mainstay, always finding more favor in Japan. After decades in the ring and being notoriously frugal, he was able to save up enough money for a comfortable retirement with his wife.

That was until his wife said she'd be leaving him for the family dentist, with whom she'd been having an affair with for much of their marriage. The divorce dealt a significant blow to Landell's finances and he now finds himself in an unenviable position: he has spent a lifetime honing a craft he no longer cares for, but does not have any other opportunities to make the kind of money he needs to make in order to retire.

He returns to the only profession he's ever known: angry, bitter and hell bent on doing whatever it takes to get the money he needs to get away from everything and everyone.
Other Feds
Heritage Wrestling Association (HWA)
Other Fed Titles
HWA Television Champion
Gimmick
In ring, he's a veteran old school grappler. There aren't a lot of flashy spots or showmanship, but he has a certain level of endearing nostalgia with wrestling fans that tends to lend him support, even with some heelish tactics.

Out of ring, Landell is a crotchety old man that's convinced his heyday was the best wrestling has seen. He smokes, he drinks, he does Hindu squats before his matches. He's the kind of veteran that will call everyone "kid" in a voice that's almost comically gravely.
Strengths
Experience -- There are very few things, in ring or out, that Landell is not familiar with. He knows the tricks in the ring and the politics outside of it.

Old Man Strength -- Inexplicably strong, particularly with grip strength. Landell has that illusive "grappler's strength" in spades.

Grappling Acumen -- A youth spent as a high level wrestler and judoka combined with decades of international pro wrestling experience has not been wasted. His knowledge of various techniques and styles is substantial.
Weaknesses
Age -- Landell is in his 50's and has had an entire lifetime spent in combat sports. He doesn't fire as fast as he used to, his joints hurt and he gasses out much faster than some of his younger competition.

Speed -- His entire game revolves around physically getting a hold of his opponent. If Landell is facing a particularly fast/aerial styled opponent, he will have considerable difficulty competing with them physically until he's able to nullify that speed.

Myriad lingering injuries -- He has suffered multiple minor injuries over the course of his career. The only major injury was to his left knee, something an eager opponent could exploit.