Biography | Wrestling | Promos | Appearances | Photo Album
Aleczander the Great Biography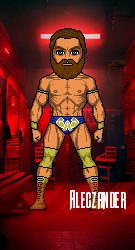 Personal
Hometown
Miami, FL by way of Manchester, England
Physical Description
Mixed race. Half white, half black. Shoulder-length straight black hair with blue eyes. Chiseled chin. His face remains clean-shaven because he doesn't like facial hair; it hides his well-developed cheekbones (his words, not mine). His body type is reminiscent of a 2006-2007 Chris Masters; the very definition of a bodybuilder's physique.
Gimmick
Total jock/pretty boy type that looks like he stepped out of the WWE Wet Dream Pretty Boy Catalog. He's a completely vapid douchebag at times. All about ladies and success. Imagine a personality kind of like an asshole-ish version of Russell Brand (womanizing, somewhat manic, loud). His talent is never in question, but his arrogant and boisterous demeanor makes him difficult to get along with.
Ring Attire
Underwear-style trunks that he usually wears in a dark purpple or neon pink with a "A" on the back in gold with flexed muscles. Dark purple or pink kneepads with black boots. Purple tape wrapped around his wrists. He has been known to wear other colored tights, he's just a fan of a darker purple. He has a tendency to wear really obnoxiously bright variations on colors just to stick out more and get attention on himself.
History
Biography
BRIEF STORY: A former reality star back from the days of the SlySports era when evil mastermind and all-round bastard Jeremy Hunt schemed and subsequently took over ACW. For a good year, Aleczander went from being totally shitty in the ring to being totally passable in the ring thanks to the tutelage of The Amazing Gabriel. He won two tag team title reigns with the group along with becoming the longest-reigning ACW Tag Team Championsin history at a record-setting 340 days. After a series of bungles leading to his unceremonious ousting from The Night Life, Aleczander found a kindred spirit in "The Rookie Monster" Angel Trinidad. Angel requested to take Aleczander under his wing, but he would have to fight his mentor and tag partner, Capital Punishment for a spot. Aleczander came out on the losing end, but he was allowed into the group after demonstrating his toughness. In only Aleczander and Angel's second match as a team, Aleczander managed to earn an ACW Tag Team Title reign for the threesome who proceeded to defend the betls under Freebird Rules. This win put Aleczander in rarified air as only the second wrestler in history (Alias being the first) to be a three-time ACW Tag Team Champion.

Unfortunately, Aleczander's ego and cheating ways got the better of him and a series of miscommunications and slip-ups once again left The Mancunian Muscle out on his ass. Only this time, he would do the betraying. He was tired of feeling held back and doing things for others. The first chance he got he would break out from Team HOSS in a violent beatdown with a steel chair.

Unfortunately bad luck befell ACW and soon the storied organization closed its doors for a second time. Aleczander was left with nowhere to go due to his troublemaking attitude and went off on his own but luckily for him, some deity of choice gave the arrogant shitstain a second chance... DEFIANCE and Angel Trinidad came calling. But he'd have to back to Team HOSS...The group he helped dissolve...

With greedy and annoying Superagent Junior Keeling now backing Team HOSS, they have a renewed focus and the monsters have ruled the roost as its Trios Champions, dominating the division until their loss to the unlikely team of Lindsay Troy, Dan Ryan, and Ty Walker. From there, Team HOSS and Junior Keeling were all fired when it was found out that Keeling had paid to manipulate a drug test to circumvent a scheduled Trios Title defense against Troy's previous team, the Big Damn Heroes.

Months passed and nothing was heard from Team HOSS...

...until now...