Biography | Wrestling | Promos | Appearances | Photo Album
Virginia Quell Biography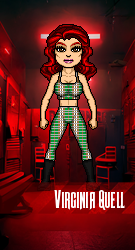 Personal
Hometown
Blackpool, England
Physical Description
Thick at the waist, built a lot like real life grappler Sara Del Rey. Very fit, stocky build. A stunning girl with dark red hair that tumbles down around her shoulders in tight curls. Very thick proper British accent.
Gimmick
A self important little spitfire that will take any shortcut, break any rule, do absolutely anything in her power to claim victory for her and her "dear Hollis" (see: Bronson Box). Where Bronson likes to cause his mayhem face to face, Gin takes the low road... constantly. Even when she doesn't have to. With her trademark brass knuckles always at hand (see: tucked between her cans) The Red Queen looks to reign over the ladies of DEFIANCE for a very long time.
Ring Attire
Her style both in and out of the ring is, like her companion Bronson Box, very vintage. With Gin her style and ring gear varies from week to week. Lots of green plaid and dark browns and grays, always with tall matte black wrestling boots and matching fingerless gloves. Dark green eyes.
History
Biography
Born and raised on the streets of Blackpool, England Virginia Quell never had an easy life. Abandoned by her parents in her teens she was forced from an early age to learn to take care of herself. She quickly got involved in the fight game, wrestling, viewing it as an easy way to make a living. Or so she thought. Spending years getting beaten down by woman twice her size and experience all around the UK gave young Miss Quell quite the chip on her shoulder. Cruel, cold and willing to do absolutely anything to get the win Virginia is a force to be reckoned with between the ropes... and outside them for that matter as Miss Quell has a violent past still shrouded in mystery.